What do you do with a whole chicken?
In my household, an entire chicken is too large a portion for us. Besides, my daughter and I prefer chicken breasts. My best friend gave me a genius idea about making chicken salad with thigh meat. An idea I hadn't considered. I put the idea to the task. I think it's cheaper anyway to buy an entire chicken, isn't it?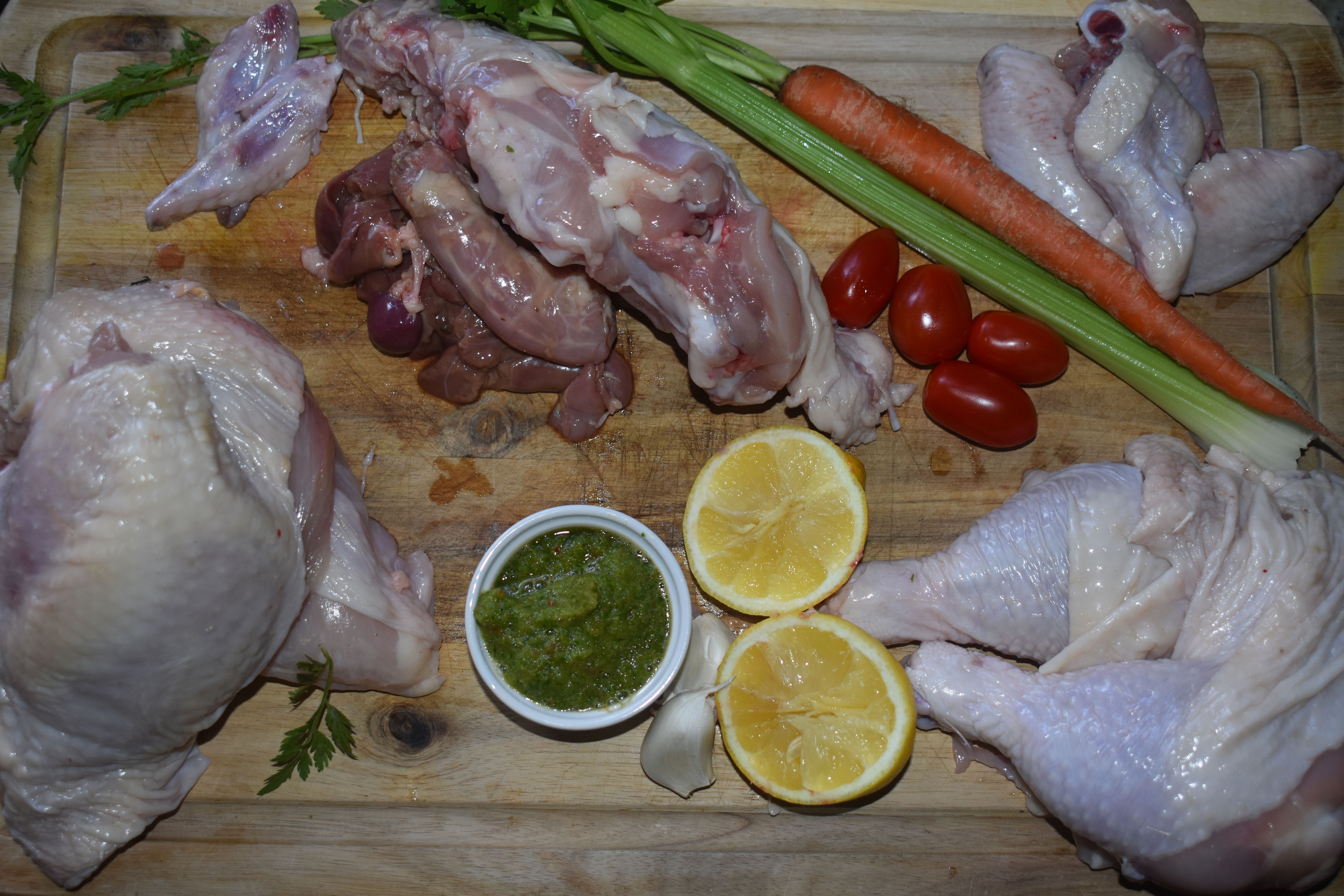 I cut the chicken in the typical eight-way dissection: 2 wings, 2 thighs, 2 drumsticks, 2 breasts pieces.
The little wingtips I separated and broke down the wings into four.
I cut each breast into two—they were thick enough to make cutlets.
Okay, now I also had the backbone and offal.
Here's where I started: In a pot, I added a bit of water, a sprinkle of salt, and threw in the thighs/drumsticks, and four-wing pieces. They will parboil for twenty minutes before removing the wing pieces. Continue to let the legs/thighs cook.
The wings: I put them aside to cool. I poured 2 tbs of soy sauce, some honey, garlic, rosemary, and brown sugar over them before putting them in a Ziploc—freezer. I will fry these at a later time, making sticky wings snack for my daughter.
When the legs/thighs were tender, I removed them from the pot. Save whatever is happening in the pot-- you're going to keep using it. The legs and thighs I will leave plain because I will shred the meat and use it for chicken salad. Leaving them plain will allow me to vary the flavors: Mediterranean, Mexican, etc.
In that same pot, heat 2 tbs of oil. Toss in the backbone, offal, wingtips, some oil, and the "spices." Salt the water. I added extra garlic, carrots, and celery, and three cups of water. Allow it to breakdown in a rolling boil. Add more water as necessary. The liquid will be your homemade chicken broth.
You can portion it by pouring it in ice cube trays and freezing it. These cubes can be great flavor additions when making rice or meat dishes.
You can have larger portions to use for a chicken noodle soup base. Or you can even blend all of it for a thicker base.
The breasts I seasoned and placed in Ziploc bags—freezer.
I think I did pretty good.
How do you break it down at your house?