When considering dinner, sometimes all it takes is tweaking the presentation or flavors.
Chicken Pot Pie is such a warm hug from the inside and an easy meal to put together; I just never liked it. LOLOL.I think it felt like too much of a mush inside of the crust. I was expecting two cousins over for beverages and dinner that day, so I prepped beforehand. The biscuits went in the oven as I was making the gravy, so I only needed about 5 minutes at the stove before presenting a stylish, upgraded meal. This individual chicken pot pie absolutely showed up differently. :) It's elegant.
BTW, GUESS WHAT I'M FEATURING NEXT WEEK? BLOOPERS! Did you catch the DALGONA coffee video? That is so good. :)
You may already have a chicken pot-pie recipe, but I've posted one below anyway. I boiled the ingredients separately, but you may have a frozen pack of the carrots and peas--that works too. :)
This is a deconstructed version per se; it's layered and topped with a biscuit, shaved celery, and sprouts. No baking other than the biscuits.
I have two gravy versions, one more rustic, rich, and deeper in flavors than the other. By reusing the water you boiled the veggies in, as I explain below in the recipe, you will create your own broth.
The gravy version 1 will look like this: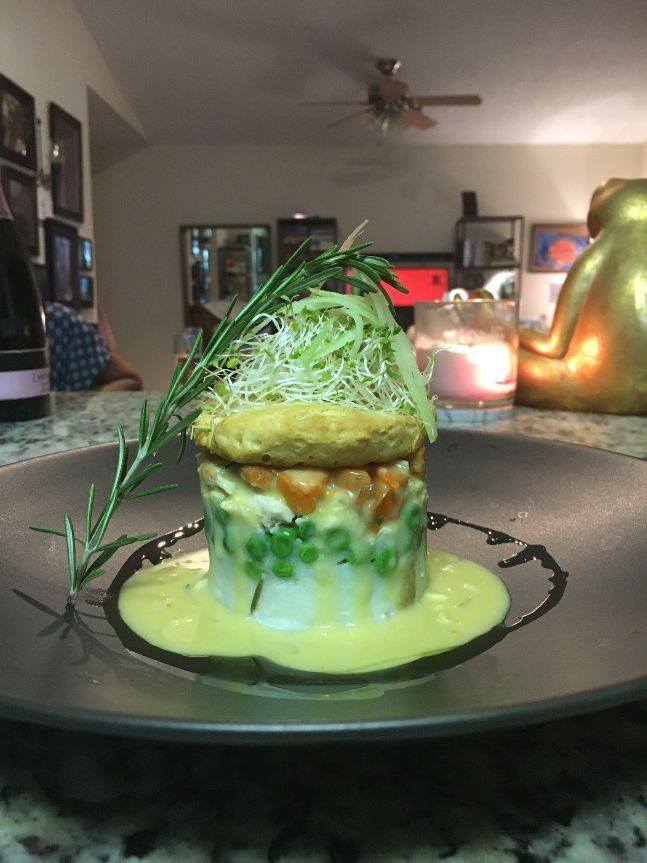 Grilled chicken and smooth mashed potatoes, veggie broth gravy
Gravy version 2 will look like this: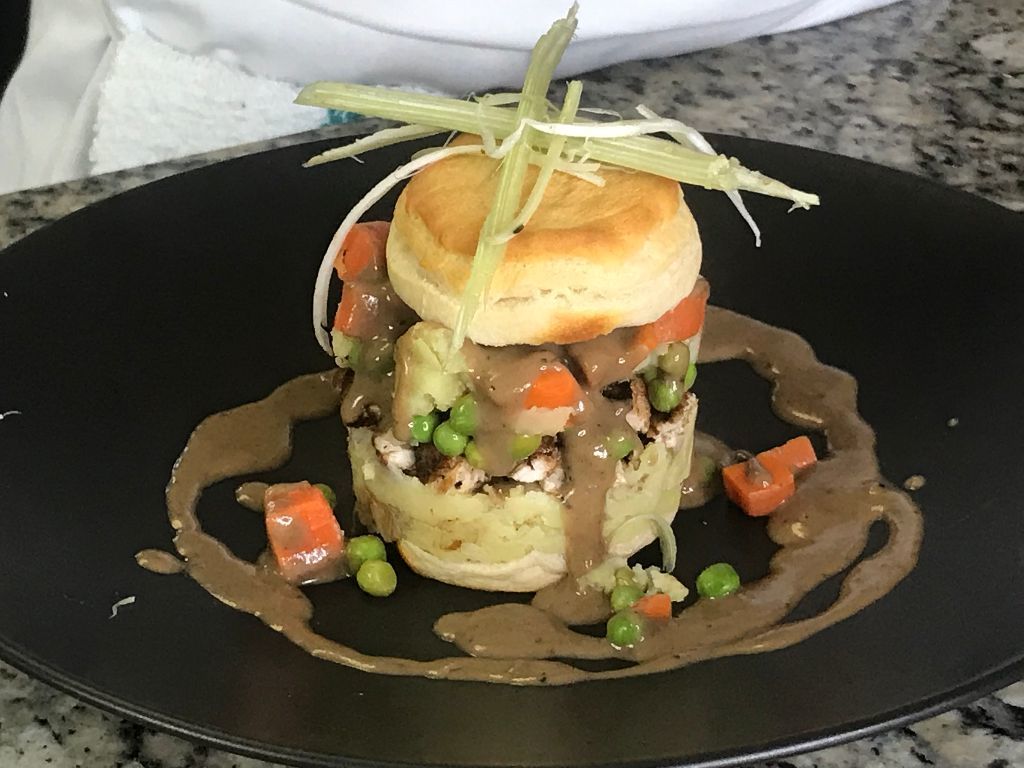 Pan sauteed chicken, deep in color with rough masked potatoes, rich meat based gravy
Watch a quick video:
See! There I go with a ring again. :)
Elegant Chicken Pot Pie
1 lb skinless, boneless chicken breast halves (grill it for Version 1, pan saute for Version 2)
1 tsp salt
½ pepper
2 C potatoes (optional, peeled)
1Tbs rosemary
¼ chopped onion
1 tsp thyme
1 tbs garlic
1 cup sliced carrots
1 cup frozen green peas
2 tbs butter + 1 tbs.
2 Tbs all-purpose flour
⅔ cup heavy cream or milk
1 roll biscuits
Preheat oven according to biscuit package instructions.
Season chicken with salt and pepper. In the saucepan over medium heat, sauté and brown the chicken in 2 tbs butter. Cook chicken thoroughly, 15-20 min. Remove from heat and chop or dice.
In a saucepan, boil (in salted water), the potatoes, rosemary, onion, thyme and garlic until potatoes soften, 7-9 min. Remove from heat, but RESERVE LIQUID. Mash potatoes.
Use reserved liquid to boil carrots, remove from heat, and then again reserve liquid. Set carrots aside. With reserved liquid, boil peas. Remove from heat, once again reserve liquid. Set peas aside.
Bake biscuits according to package. Remove from oven and split biscuits, removing top half.
Using a ring, place bottom half of biscuit on the plate, spoon in mashed potatoes, then peas, chicken and then carrots. Drizzle gravy over top of the "stack" and around plate.
Follow instructions for gravy preference:
Version 1 for gravy: The veggie broth will be a yellow tone. You can return this broth to the saucepan over low heat, add 1 Tbs butter, flour, whisking quickly to prevent clumping, and then heavy cream. Season with salt and pepper. Cook until slightly thickened. Remove from heat.
Version 2 for gravy: Reserve broth. After you sauté the chicken, use the reserved broth to de-glaze the pan from the chicken. This will create darker gravy as you scrape the bits from the sauté pan. Add 1Tbs butter, then flour, whisk quickly to prevent clumping, then add heavy cream, whisking constantly and salt and pepper. Continue to whisk until thickened. Remove from heat.
Top the stack with biscuit. Shave celery with a peeler and place on the biscuit.
What if you have leftover biscuits? Butter them, cube them, toss them in the oven for 5-7 minutes. Tadah! You just made croutons.
Enjoy!
Thanks for being here.