I enjoyed this recipe. It's summertime and making ice cream is one of those easy entertaining treats. I have an old school ice cream maker, so I can churn a batch out in a bout an hour. Machine. Ice. Ice Cream salt which can be found in the salt aisle at your local grocery store and go!
It's easy to follow.
I didn't work as fast as I should, because you have to shape the cones quickly, therefore, some cones just hardened flat as a sheet. I just broke those into pieces creating a tuile decor for my mango/vanilla ice cream.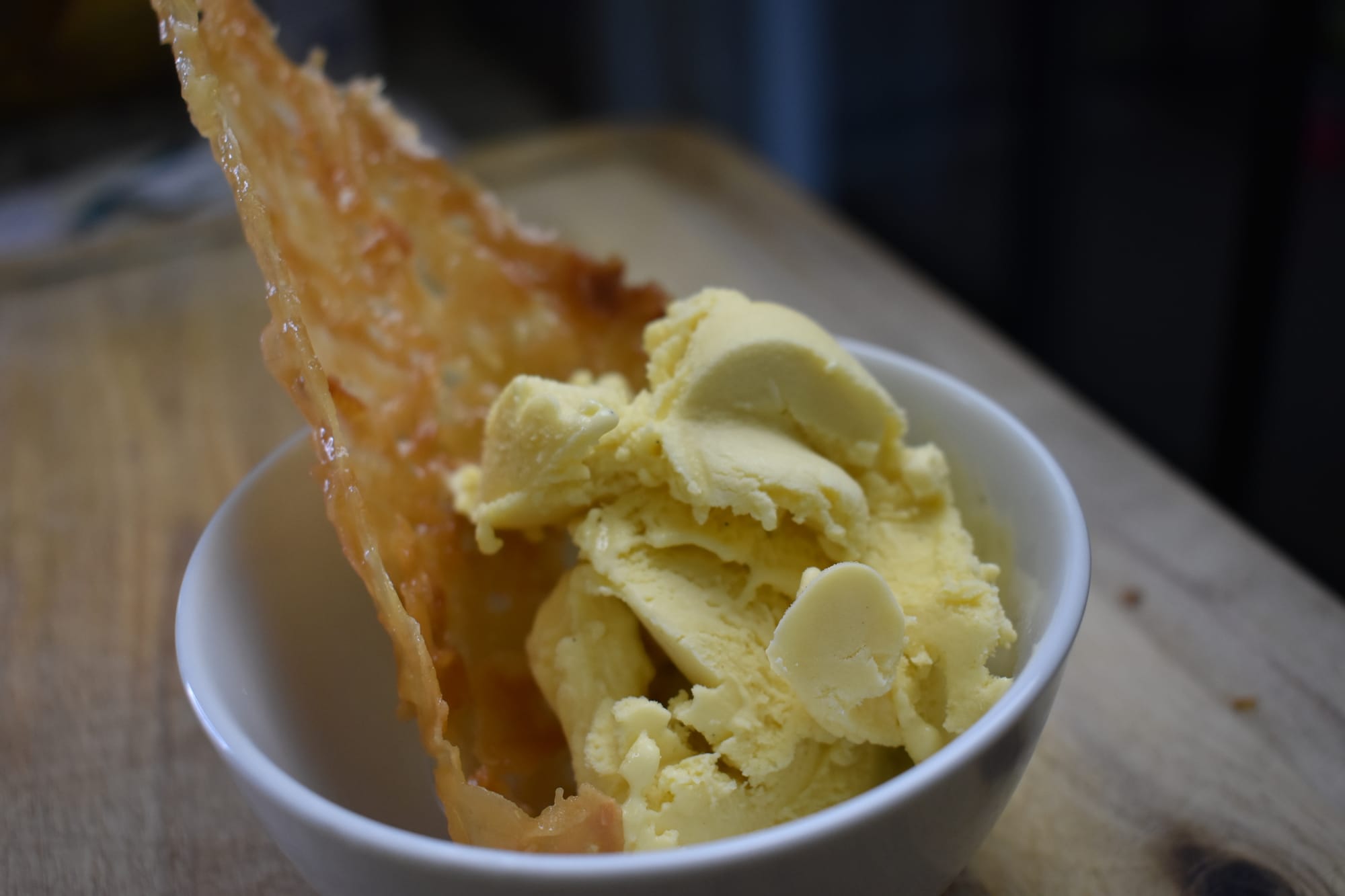 When I tried to bake it one minute less, thinking that would buy me some time--it didn't. You have to bake the cones as noted, otherwise they are floppy messes, never hardening.
It's quite easy otherwise. I hadn't bought the baking cones, instead I crumpled aluminum foil to create the template. All the cones weren't uniform. :(
ICE CREAM CONE RECIPE:
1/2 Stick butter
1/4 C packed light brown sugar
3 Tbs corn syrup
1/4 C flour
1/2 C shredded coconut
In a saucepan, bring butter, sugar, and corn syrup to boil. Add flour, cook stirring constantly for 1 minute.
Add coconut.
Cool 45 min.
Heat oven to 375.
On a buttered baking sheet, pat and spread 1/2 Tbs rounds into 4 inch rounds. This will feel like working with playdoh and the mixture will melt and give a bit. Note that it will spread during the baking process--place each round 6 inches apart. I suggest making small batches to give yourself time to form the cones.
Bake 5 1/2 minutes.
Allow it to rest and firm up 2 min.
Loosen with an offset spatula, flip it over, smooth side up and roll on the cone shape, set for 15 seconds before removing foil or baking shape. Set aside.
Here's a quick video:
What about the ice cream?
14 oz passion-fruit or mango puree
1 Can condensed milk
2 C heavy cream
1/2 Tbs vanilla essence. If you have vanilla bean, even better.
No ice cream maker? You can still pour this into a ice cube trays or a bowl and freeze. It just takes longer to set than with an ice cream maker. :)
In a saucepan on low heat heavy cream. If using vanilla bean, split bean and scrape the insides into cream.
Add cream, condensed milk and puree into a blender.
Add mixture to your ice cream maker and follow instructions from there...
The ice cream maker yields a soft serve ice cream. I put it one of these insulated containers to firm it up and store it. So far they haven't failed me yet.
Otherwise, pour the mixture into silicone ice cube trays or popsicle trays for a fun, portioned treat.