How fun is this? You'll fool everyone with this treat.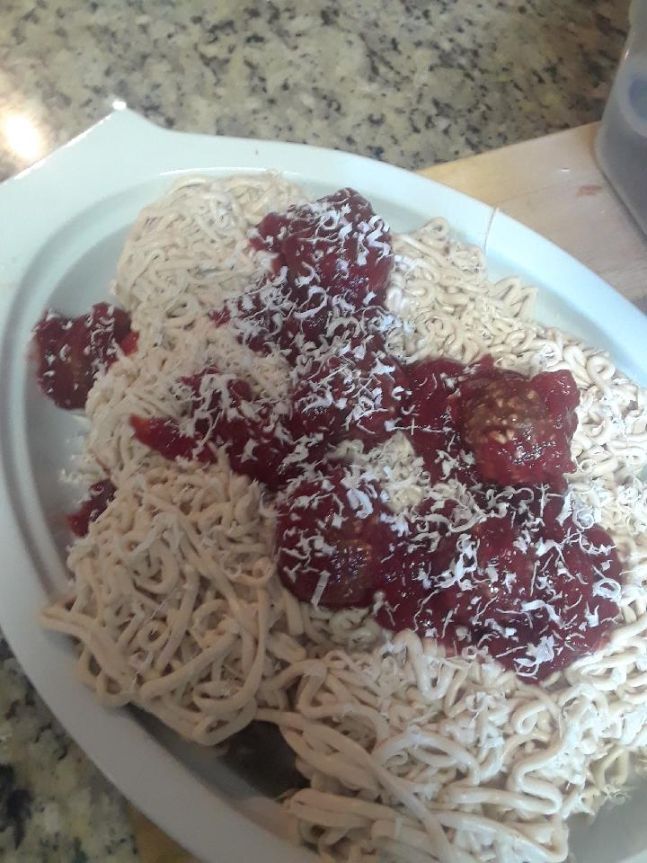 1 box classic yellow cake
1 tub home-style vanilla frosting
½ tsp unsweetened cocoa powder
3 drops yellow food coloring
¾ C low sugar strawberry preserves (low sugar has the best color)
11 hazelnut chocolates (Ferrero Rocher), unwrapped
2 Tbs grated white chocolate plus additional chunk for garnish
Preheat oven to 350 degrees. Line muffin cups with liners in each cup. Prepare the cake mix according to package directions. Divide batter evenly between prepared cups. Bake until cupcakes are lightly golden and toothpick inserted in the center comes out clean, 21-23 min. Transfer cupcakes and cool completely.
Tint the vanilla frosting with cocoa powder and yellow food coloring. Spread a thin layer of tinted frosting on top of each cupcake. Arrange cupcakes on a serving platter, touching. Use a platter that you would serve pasta in to make it more believable. :)
Spoon the remaining tinted frosting in a Ziploc bag. Snip a small corner (1/8 inch). Go wild with piping frosting all over cupcakes to make "noodles." Pile the frosting high and zigzag, let the frosting hang over the edges of the cupcakes too.
Toss the hazelnut chocolates with the strawberry preserves in a medium bowl to coat. Spoon some preserves on top of each cupcake. Place a hazelnut chocolate on top of each cupcake, and on the platter. Top cupcakes with remaining strawberry preserve.
Sprinkle grated white chocolate over the cupcakes as the cheese.
Enjoy.