Sure, I can go into details.
This display is one of the details that show class cannot be bought.
When my passengers exaggerate with catering and/or luggage to an extreme, it shows they came from a place of lack, and now they are overcompensating…
Here's the catering for 6 passengers: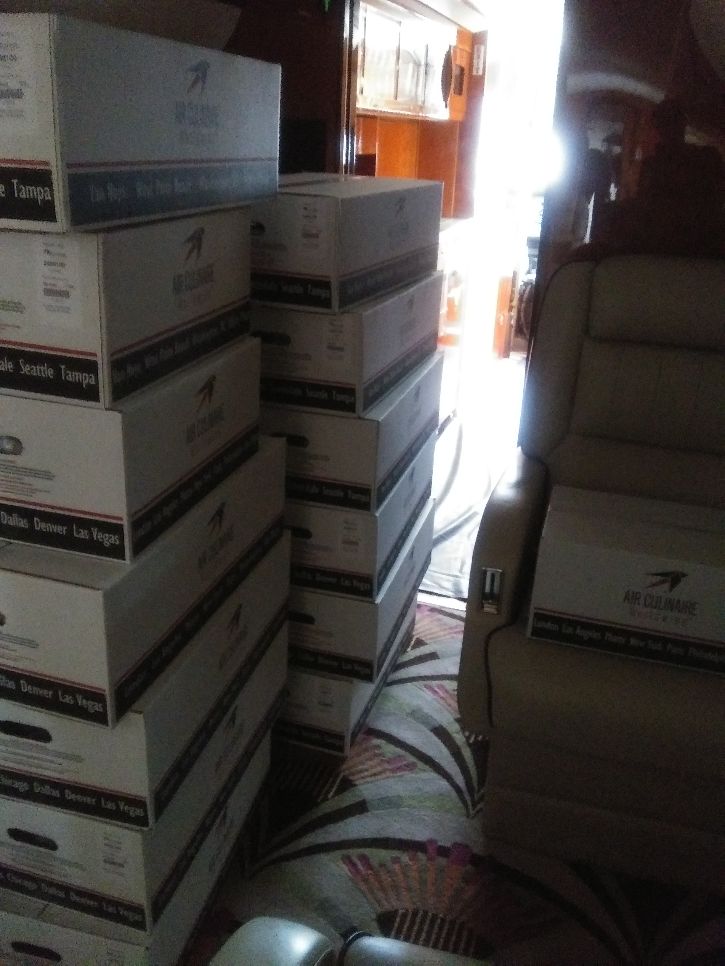 Read on, you'll see what they ate at the end.
Trust, the full luggage compartment, and full back third of the plane with Prada bags, etc.--too telling. They may look polished, however…
I'm not against luxuries, but you can tell those that are trying to fit into a bracket they are not familiar with. Ouch.
Was I going around the world?
No, but when I do, the passengers who "woke up like this," will generally order simply a breakfast, lunch, snack, and/or dinner, depending the time we're onboard.
Where did I go? New York to Kona, Hawaii. Non-stop; ten hours.
Let's break this ridiculousness of what was in the boxes down:
Cheese and crudité platter for 6 (x)
Antipasto for 6
Sushi and Sashimi for 6
Seafood platter for 6
Bento boxes for 2 (x)
Hot appetizer platter (potato skins, wings, satay) for 6 (x)
Deli meat and cheese platter for 6 (x)
Tea sandwiches for 6 (x)
Hot dogs for 6
Pork chops for 3 (x)
Porterhouse steaks for 3 (x)
Bagel and smoke salmon for 6 (x)
Scrambled eggs/bacon/sausage for 6 (x)
Fresh fruit platter for 6
Spanish tortilla breakfast for 6 (x)
Chocolate and vanilla ice cream with sprinkles for 6 (x)
3 bottles of red wine (x2)
1 bottle of vodka
The items without an (x), they nibbled on.
They only thing they finished were the hot dogs and vodka…
Aside from throwing away a closet full of food, here is what was left to toss out.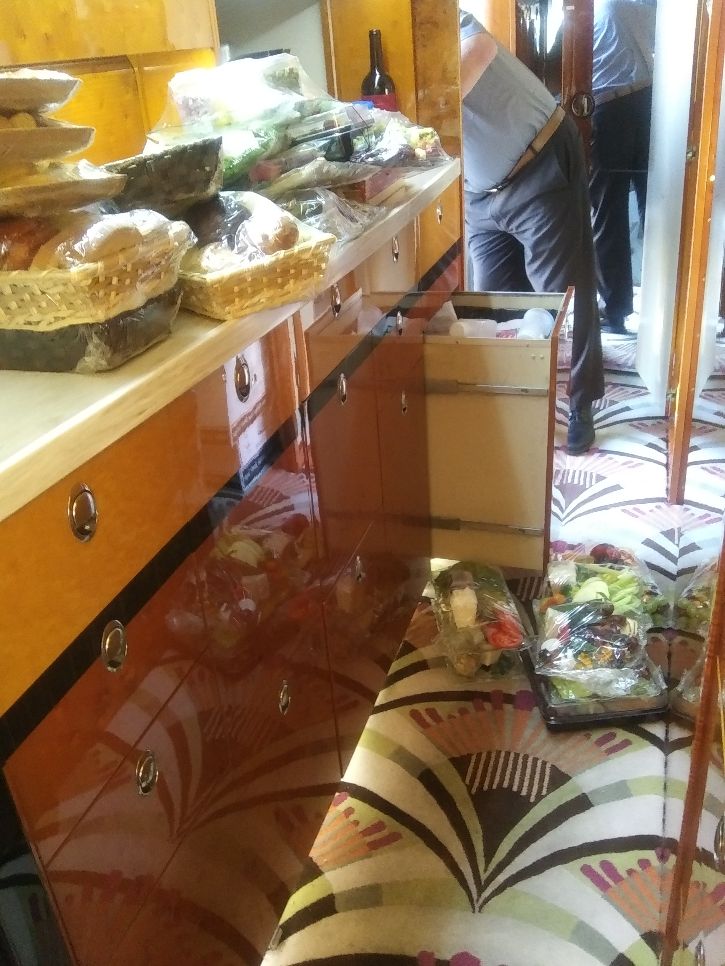 There may be some of you that will say, "Well, if I had it, I would certainly flaunt and go all out. Why not?"
In your daily life, do you eat every hour? Do you need 2-3 choices of meals per hour?
Why would you live any differently whether on a private jet or cruise-ship?
I could see a tuna fish sandwich upgraded to a decadent lobster roll, but even if you had the money, what if you just enjoy plain ol' tuna fish sandwiches? Does the crust need to be dusted in gold, just because you "have it?"
Do share your thoughts in the comment box.
On that note, I do wish all of you a wonderful Thanksgiving. May you enjoy the simple moments with some luxuries sprinkled in to shift the monotony.
Be grateful for the meal you put together, friends and family, and appreciate where you are for now, even if your situation could be better. There's always a blessing for hope, light, and space if allow for that change. Enjoy.