Hmm. This is one of my flight attendant stories/experiences. Let's chat about this. The picture below is one that I took. Though you can't see all of them, the pilots' surely loaded thirty-six suitcases for a couple vacationing in the islands for a week. Really? It was a private jet, but still…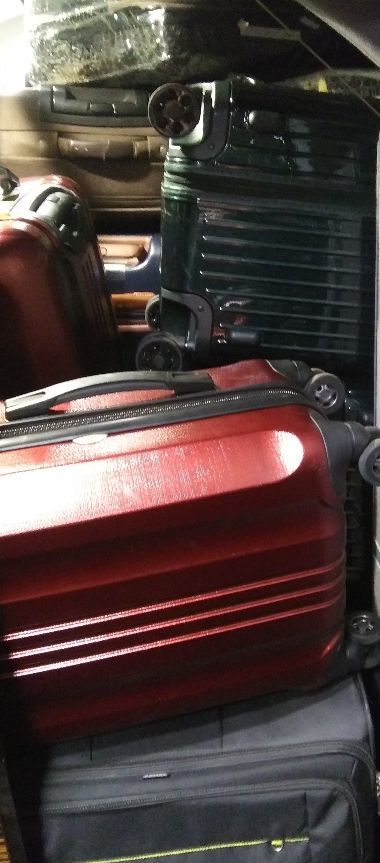 I wondered if the vacation was to impress the hotel staff with four or five outfit changes a day? Was that going to make the experience better? Or are we concerned with fending criticism if we post pics with the same outfit on different days? If so, why? Why are we so concerned with approval these days? Have we always been this self-conscious?

When I saw loads of suitcases, which were all 36 inches tall, it brought up the question:
What exactly HAS to come with, when going on vacation? What is our intention? I thought the idea was to relax, enjoy the turquoise water with its foaming waves, luscious dinners, and stunning excursions. Did the couple need twelve pieces each, assuming it was even divided evenly?

I have been a flight attendant for over twenty years. Sometimes I'm away from home for up to twelve days at a time. My outfits are generally one color scheme so that I don't have to pack extra shoes. I always have summer clothes, a bathing suit, sandals, sneakers, work out clothes, and a sweater, along with my daily clothing, uniforms, etc.--my bag is 21inch non-expandable Travelpro.

Flight attendants can pack a suitcase as if we were playing a game of Tetris.

Aside from needing the toiletry bag with refillable bottles, undergarments, a couple of bathing suits, sarongs (because they can morph into multiple outfits), breezy linen pieces, and sandals, what more? If you're unfamiliar with anyone on these islands, did it matter if the orange and black sarong was worn to dinner on Wednesday, and then as a skirt for lunch on Friday?

Maybe it's the cumbersome stacking of the luggage just so on the carts at the airport, or not wanting splayed pieces of luggage suffocating the oceanfront room, my preference and habitude at this point, is that it has to fit in the overhead. I was able to pull this off even when my daughter was a baby.

What are some great tips you've learned whilst traveling?
What do you absolutely NEED?


Here's what I've learned over the years:

-When you have a little one, pack diapers, etc. to get you there, and then buy locally.
-Don't plan too many activities especially if you're short on time.
-If you have kids, get a hotel with a pool—you just may be there the whole day (so much for the four outfit changes hunh?)
-If you're on holiday for two weeks, it makes sense to do laundry at the hotel, if it means fewer pieces of luggage. Yes, I know you're on vacation, but trust me, lugging all those pieces will leave you exhausted and annoyed, not to mention cluttering the room.